Date: Thursday, September 29, 2016
Immerse yourself in a healthy balance as we join Cease Wyss the Indigenous Plant Diva once again for another live demonstration from Vij's Kitchen, in alliance with the Indigenous Research Partnership in the Faculty of Land and Food System.
The Indigenous Plant Diva has tapped into what interests the consumer. They are the people who want to be more aware of what's in their tea and medicines and would like to know where it comes from, as well as being more mindful of natural options for wellness.
In this session Cease will introduce to us a variety of medicines and some fresh medicines collected over the summer and fall in Coast Salish lands and waterways. She will be sharing some knowledge around plants and preservation of them for making teas ands few other fun ways of creating remedies. Some of these medicines are available and accessible throughout the Pacific Northwest Coast and some interior sites.
Highlights which will be covered in this session:
Harvesting

Preserving teas and medicines

Preparing teas and medicines for various uses

Exploring the impact of invasive plants on teas and medicines

Understanding the importance of bees
About our Presenter:
Cease Wyss (AKA Indigenous Plant Diva) of the Skwxw'u7mesh, Sto:Lo, Hawaiian & Swiss Nations, is a traditional herbalist with a passion for ethnobotany, food security, community gardens and indigenous plantings. She is also a Media Artist, Educator and Activist. Cease has been building her long term relationship with all things plant-life for 30 years. She is currently the project coordinator for a community garden in North Vancouver, called the Harmony Garden located in the village of Xemelchtsn. She is also the co-owner and co-operator of Raven and Hummingbird Tea Company, which she and her daughter operate. She continues to study and still has time to teach medicinal & food plant knowledge with her community and programs within the City of Vancouver and also travels to many other communities when invited to do so. Cease continuously promotes sharing knowledge and culture, with diverse communities in the unceded territory of her people and beyond.
Together, Senaqwila & Cease Wyss, are a daughter & mother partnership who have teamed up to create a business based on traditional local and seasonal plant foods and medicines. Their teas are all handcrafted and they endeavour to bring a sense of wellness and comfort to the teas that they blend.
They are currently working on setting up their new online store and their logo and branding. Watch out for news about their upcoming launch of the website and online store this fall. 
T'Uy'Tanat-Cease Wyss,
Owner/Lead Herbalist: Raven and Hummingbird Tea Company
Teas/traditional knowledge transfer/community engagement through tea/media arts and culture
HTTPS://ravenhummingbirdtea.wordpress.com
HTTPS://indigenousplantdiva.wordpress.com
---
PDF Version of PPT Presentation:
Interactive Medicine Walk with the Indigenous Plant Diva Video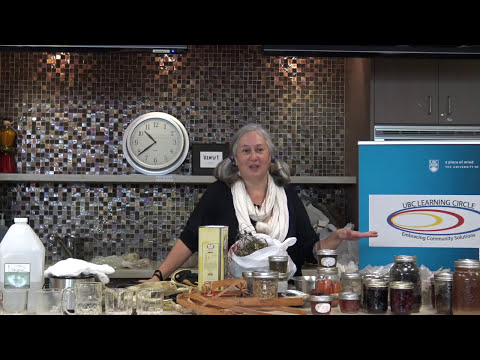 ---
.
.