Session Date: May 5th, 2016
Hip-Hop artist Warren Hooley will host the "guy focused" session for UBC's Youth Learning Circle!
Hooley will be LIVE from Langley's Cineplex Cinema, with a panel of Indigenous guys, along with 200 grade 10-12 Indigenous students, on May 5th, 2016. The Centre for Excellence in Indigenous Health's UBC Learning Circle  and the First Nations Health Authority(FNHA) is collaborating with the Langley School District's Aboriginal Program in providing a "guy centered" session. Hip-Hop artist Warren Hooley will guide the audience and panel guests through a lively and interactive experience with Indigenous students attending SCHOOL DISTRICTS ACROSS THE PROVINCE. Preston Guno, Curtis Clearsky, Willi Charlie, Kwantlen Nation Elder Lekeyten join the panel with Warren.

Hip-Hop…Spoken Word…Warrior Camps
Guy Focused…Strength…

Resilience!
Talking Points
What is a warrior?

Where did we come from?

Where are we going?
About the Presenters:
Warren Hooley (Host Facilitator), Okanagan Nation and European heritage, is currently living in Vancouver B.C.. Warren defines himself as an 'Inspirational Hip-Hop artist' and much like the classic roots of hip hop while stays true to his lyrical content, based on life experience and social change. Fusing other genres of music with hip-hop and adding his flare of passion and authenticity, Warren creates music that inspires and moves people of all walks of life. " It's an incredible feeling to share the depth of my vulnerability and intense passion through the medium of spoken word and be accepted so warmly & excitedly".
Preston Guno is a member of the Nisga'a Nation and makes his home on Carrier territory in Prince George BC. Presently Guno is the Provincial Director of Indigenous Cancer Care with the BC Cancer Agency and leads Warrior Camps. His many years working with youth includes his previous position as the Executive Coordinator of the Northern First Nations Child and Family Services Council. Preston Guno is a proud father, and an active youth leader of Warrior Camps.
.
.


Curtis Clearsky is of the Niitsitipii (Blackfoot) and Anishinabe. "I am thankful to provide service to my community in a variety of leadership capacities. My career includes working with Vancouver Native Health Society (VNHS) as a Program Coordinator leading the Tu'wusht Program. Tu'wusht is a program that connects inter-generational urban Aboriginal people to food and nature in culturally focused food sustenance activities at the UBC Farm on beautiful Musqueam territory. Most recently I've been leading the creation of the Tu'wusht Trading Social Enterprise that is in partnership with the Tsawwassen First Nation Farm School in creating Indigenous food sustainability. In the past I worked for the Vancouver School Board in the School-Aged Children and Youth (SACY) program as a Support Worker and Facilitator providing harm-reduction and prevention of substance abuse working with High School aged youth. In my early career I worked advocating for Aboriginal youth voice in the urban Vancouver area with the Knowledgeable Aboriginal Youth Association (KAYA). I am currently a Co-Chair of the Aboriginal Focused School Parent Advisory Council in the VSB. In addition I am a conscious recording Hip-hop artist writer/ performer. I'm thankful to play music with many  talented musicians including my former band Dignified. I am currently recording music with the band, Unceded."
..

Kwantlen Nation's Elder: Lekeyten
 .
.
.
 .

.
Willi Charlie, Remote presenter, presenting from St. Mary's Band (Aqam)
.
.
.
.
Video of Stand Up: Warriors Called To Action: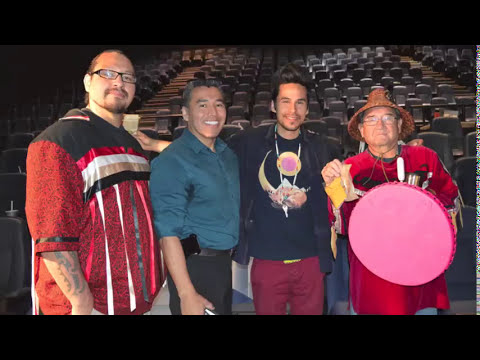 .
.
A lovely poster made by one of our participants at the session: