Join us LIVE with Dietitian, Gerry Kasten of Vancouver Coastal Health, from the comfort of your own home or office at Vij's Kitchen in the University of British Columbia!
Since the surge in popularity of cooking programs in the past few decades, it is a testament to how much we are now embracing new and interesting ways to satisfy our appetites as well as building a good positive relationship with food!
Who really likes turning through cookbooks that are basically giant boring books without pictures? Wouldn't it be more fun to explore something a bit more interactive?
With cooking webinars/videoconferences, you can watch popular, healthy recipe items transformed live right before your eyes into delicious presentation. Instead of simply reading how to perform a difficult knife cut or pasta fold, you can actually see it being tranformed right before your eyes.
Furthermore, unlike watching cooking shows on videos where you can't ask any questions (well, you can but no one will answer), in live webinars/videoconferences you are free to pause the presenter and ask him questions!
About the Presenter:
Gerry Kasten  of Vancouver Coastal Health has worked with food all of his life. He was born into a farming family and still helps his brother bring in the harvest each year.  He has received an Honours Diploma in Commercial Cooking, and Bachelors & Masters degrees in Nutrition. He has worked in Public Health in British Columbia for the past twenty-six (26) years. He is now an "Adjunct Professor" in UBC's Dietetics Program.  
His heart's desire is to live in a world where people celebrate food, sharing it with those they love, taking its pleasure without restraint because its flavour saturates their most sensuous palates.
.
---
Video of Gerry's Presentation: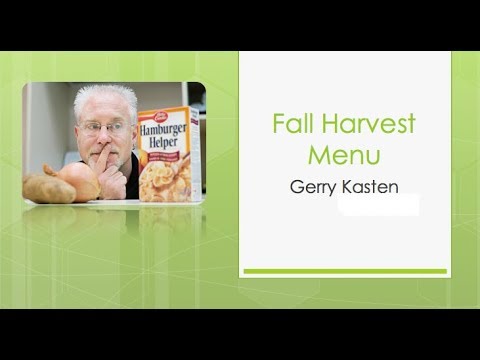 ---
The Recipes Gerry Used on this Show:
The recipe for the Tourtiere and for the Saskatoon Crisp were from the

Metis CookBook
---
Below are more cookbooks and resources that Gerry recommends for healthy eating: