Join us on this spiritual journey with Chief Phil Lane Jr. and Corinne Stone as we explore "this unique and unprecedented moment in human history – in the midst of mounting social, political, economic, psychological and spiritual restlessness and uncertainty – there exists an unnamed rootlessness that permeates the very heart of the Human Family and condition.
And it is time to name it.
Too many human beings in the modern world have been in the pursuit of the industrial and material dream severed from our Indigenous Spirits. We have forgotten how to live in harmony on our Mother Earth, and have thus lost touch with our Indigenous Roots and our intimate connection to one another and all Life!
We are all part of the ancient Sacred Circle of Life, and therefore we are all Indigenous Peoples of Mother Earth. The essential truth of this reality cannot be denied no matter how we look at it; it is simply an irrevocable truth.
To embrace and reclaim our Indigenous relationship to all Life is to remember and lovingly celebrate our sacred relationship with our Mother Earth, all relatives of our One Human Family and our kinship with all Life.¹"
Everyone welcome to participate:
Date: Thursday, November 9,  2017
Time: 10:00 am – 11:30am (PST)
Place: Internet webinar or Videoconference.
……….View system requirements
Registration: required to participate
. . . . .**Registrations are now closed**
 View Session
About the Presenters:
Chief Phil Lane Jr. (Philip Nathan Lane, Jr.) is a traditionally recognized Hereditary Chief and Elder. He is an enrolled member of the Ihanktonwan Dakota and Chickasaw Nations, and is a citizen of both Canada and the United States. With Masters Degrees in Education at National University and Public Administration at the University of Washington, Chief Phil Lane, Jr. is an internationally recognized  Indigenous leader in human and community development. The founder and chairman of the Four World's International Institute (FWII), an organization dedicated to "unifying the human family through the Fourth Way", Chief Phil Lane, Jr. is the recipient of many awards, including the John Denver Windstar Award, and is a frequent speaker on behalf of Indigenous rights and wisdom. York for the coalition of Land is Life.
Today he chairs the Four Directions International, an Indigenous-owned economic development company incorporated in 1996, focusing on the importance of culture and spirituality in development. Phil is an award-winning author and film producer, whose credits include "Images of Indians, "Walking With Grandfather," and "Healing the Hurts." He has been honored by Indigenous elders as Hereditary Chief through a traditional headdress ceremony. He was the first Indigenous person to receive the Windstar Award, and has been honored by the Foundation for Freedom and Human Rights, in Switzerland, and the Center for Healing Racism in Houston.
Corinne Stone is a member of the Tl'etinqox-Anaham Band from the Williams Lake Band. For more than two decades she has been providing a full range of services including counselling adults and youth who have experienced complex trauma and residential school syndrome, within the justice field, child and family settings, working for many different Aboriginal organizations and reserves including Squamish, Naniamo, Chemainus, and for her own Tsilhqot'in people. Currently residing in Vancouver, BC, her work has included the assistance in the development of a transition house for battered women, a street youth housing project and development of a traditional parenting program. 
Her latest accomplishment is to develop a Child and Family agency for her own community with an FOT perspective. In 2005 she won the National Aboriginal Women in Leadership Award for Health and Wellness. Her educational background include a FTT (Focusing Oriented Therapist and Trainer), Alcohol and Drug, Sexual Abuse and Family Violence training and experience. Corinne is trained in Advanced Training in the Healing Arts and Human and Community Development through the Four World's Development Program. She is a traditional dancer in both Sundance and Jingle Dress and conducts her own ceremonies using her traditional healing methods. Presently she is taking her EMBA in Aboriginal Leadership and working as Elder Cultural Spiritual Advisor for incarcerated women.
---
---
Healing With a Medicine Bundle:
.
---
Video of Protecting and Restoring the Sacred: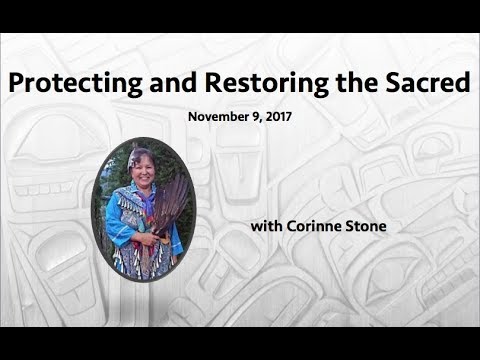 ---
.
.