UBC Learning Circle is please to welcome back Kat Norris for Part II of her story, "Without Reservation: A Survivor's Story".
In this session, explore with Kat more of her story as an Indigenous woman and residential school survivor.  She will touch on the history of residential schools, then focus on her healing journey.  Having been diagnosed with PTSD, Depression, Chronic Anxiety and living with lupus, how giving back to community,  bringing back tradition and culture into her community and family's lives continue to keep her moving forward.
Click here to view the first session of this series, "Without Reservation: A Survivor's Story".
Key objectives:
A brief history of residential schools

Sharing teachings about parenting from her Elders

How teachings help cope with anxieties, stressors, doubts, insecurities, anger

Encouraging bands & organizations to create impactful programs

Success stories
About the Presenter:
Kat Norris is Coast Salish from the Lyackson First Nation. Her traditional name Zucomul'wat is from her Musqueam great great great grandmother. Kat is a survivor thriver of the Kuper Island Residential School, and is on her healing journey. Her formative years were spend in Los Angeles, California. After moving back at 19, Kat joined the American Indian Movement where she learned of the depth of genocide her people experienced. Eventually she formed the Indigenous Action Movement, and has organized against media bias, police brutality for example Frank Paul, ambulance neglect re: Curtis Brick. Now, Kat is a cultural educator, doing contract work in Lower Mainland elementary, high school and universities. She is a grandmother and finds that taking care of sharing knowledge with the next generation a form of activism, still learning the importance of her role in this capacity.
---
A Downloadable PDF Version of Kat's PowerPoint:
Without Reservation: A Survivor's Story II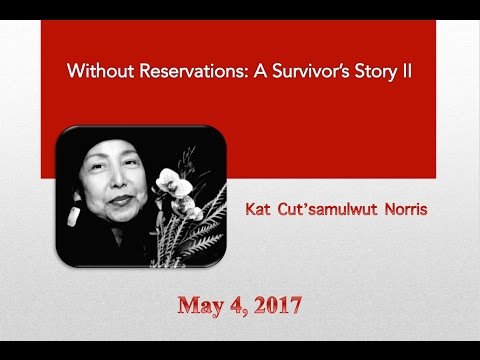 ---
Kat's Previous Presentation, Without Reservation: A Survivor's Story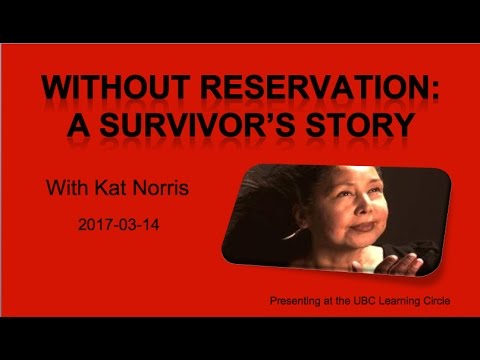 ---
---
.
.