Do your students have the funds to make their post-secondary dreams a reality? We're help to help! An education provides a path to a better future. Today, First Nations, Métis, and Inuit students are pursuing educational opportunities that lead to careers in health, education, business and beyond. Sometimes finances can seem like a barrier to achieving post-secondary educational goals, but there are people and resources available to support students to develop financial plans.
Whether you are working with Aboriginal students interested in college or in university, this interactive workshop will help you become familiar with the range of options available to help students cover the costs of a post-secondary education. Learn more about how to connect students to grants, bursaries, and scholarships, as well as some specific options available at the University of British Columbia, including the tuition waiver for former youth in care. If counsellors and advisors find this workshop useful, it may be followed by additional workshops.
Audience:
This session is well suited to those in communities and secondary schools who advise or support First Nations, Métis, or Inuit students. Some examples include parents and caregivers, Aboriginal education workers, and education coordinators/managers. Not sure if this session is right for you? Contact us at aboriginal.recruitment@ubc.ca.
About the Presenters
Tara Drage, Enrolment Services Professional and member of the Aboriginal Student Finances Team
Hi, I am Tara Drage, and I have been working at UBC for just over 5 years. As an Enrolment Services Professional, I support current and prospective students as a first point of contact to help develop financial strategies to cover post-secondary education expenses. Prior to this role, I worked as a Program Manager and Career Educator at UBC and I have spent several years of my career in the non-profit sector supporting children, youth and families in various capacities.
Chloe Erlendson, Associate Recruiter Advisor, Aboriginal Students
Hello, my name is Chloe Erlendson and I am Métis from Treaty 2 territory in Manitoba. I completed my undergraduate degree here at UBC in First Nations and Indigenous Studies and have been working as the Associate Recruiter Advisor, Aboriginal Students since August 2016. I look forward to working with you to book a group visit to the Vancouver campus and to support students as they pursue their post-secondary goals.
 

Jeremiah Hyslop, Bachelor of Science student and Major Entrance Scholar, 2nd year, Chemistry In his spare time he enjoys playing and watching sports, especially basketball and hockey, as well as fishing, working, and spending time with friends and family. His biggest challenge in first year was adapting to the way of life in University, especially the fast academic pace.He became a peer mentor because he wants to help new students feel welcome and at home on our campus. His favourite part of first year was making new friends, so he'd like to help new students to do the same.
---
Reading Materials:
---
Video of Dollars and Sense: Financial Preparation for Post-Secondary Education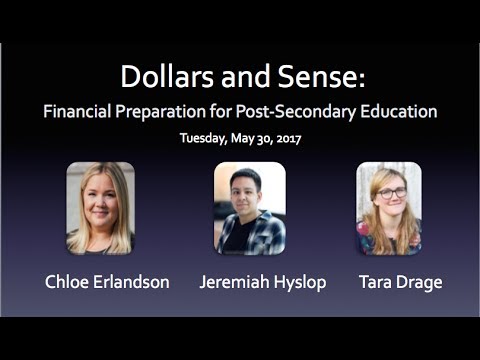 .
.
.
.
---
.