By meditsd on December 17, 2015
There is no excerpt because this is a protected post.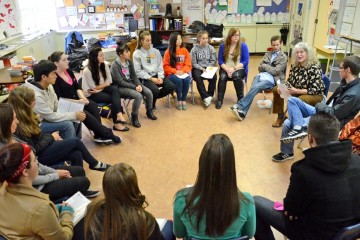 By meditsd on November 3, 2015
Date: Tuesday, November 3, 2015 This is a Learning Circle about creating support circles. In this session 'How to Create Support Groups in Community', UBCLC engages with the expertise of Lucy Fraser, Hospice Director and Chilliwack's 2015 Women of the Year and Cheryl Redfern who specializes in complimentary healing and is a recent trainee in […]
By meditsd on October 22, 2015
Session Date: October 22, 2015 Please join us in a conversation about Doulas and Midwives with Kayla Serrato of FNHA, who organized this presentation in collaboration with Amanda Engen of BCAAF, and Jeannette MacInnis, who will facilitate the presentation, also of BCAAFC. Also presenting are Kathleen Lindstrom of Douglas College, Marijke de Zwager of Midwives Association, […]
By meditsd on October 21, 2015
Fentanyl in First Nations Communities.  Date: Wednesday, October 21, 2015 Over the past three years the opioid has progressively increased the number of drug overdose deaths. In British Columbia 25% of the overdose deaths were attributed to Fentanyl. It is responsible either alone, or in combination with other drugs for 300 overdose deaths in 2014. Naloxone is the drug that […]
Support Resources
Video Conference Technical Support
Technical support for those with videoconference equipment for our online events, please call: 1-844-364-7878 or email eHealthSupport@fnha.ca.
Webinar Technical Support
For webinar technical issues please click here: Webinar Technical
Counselling Support
If you need support please do not hesitate to call the toll free crisis line here in the province of B.C. (1.800.784.2433) or if you prefer, have a number prepared in advance locally.
Youth Support
Check out our Aboriginal Youth Resources page for more information.