Welcome to the live-stream session in the UBC Learning Circle of "Cultural Humility in Teaching and Learning: Conversation with Dr. Evan Adams" in Teaching and Learning at UBC. This special session is a partnership with UBC Centre for Teaching and Learning Indigenous Initiatives, as part of their Classroom Climate Series.
Event Description
Please join us for an exploration of cultural humility and what it means for how we teach and learn. We will hear from Dr. Evan Adams, Chief Medical Officer of the First Nations Health Authority and a trailblazer in promoting cultural humility within the healthcare system.
With humour and wisdom, Dr. Adams offers insights into the journey of cultural humility and how this ongoing process of learning and reflecting can strengthen relationships and improve outcomes.
Participants are welcomed and encouraged to engage in this interactive session to advance the dialogue on cultural humility and learn from one another's journeys.
Learning Objectives
Explore the meaning of cultural safety and cultural humility.
Reflect on the role of cultural humility in your work – how can cultural humility enhance experiences in the classroom?
Event Date & Time
Tuesday, March 21, 2017
10:00 am – 12:00 pm (PST)
Please note this session is available in person or by webinar only
To attend in person at UBC, please register

here

.
Webinar Registration only:
[Registration is now CLOSED]
About the Presenter:
Dr. Evan Adams is a citizen of Tla'amin (Sliammon) First Nation in Powell River, BC, and Chief Medical Officer at the First Nations Health Authority (FNHA), the first health authority of its kind in Canada. In this role, Dr. Adams acts as the "face" of the FNHA's public health function and serves as its representative / keynote speaker at health conferences and community events. He also develops and/or strengthens partnerships with First Nations health governance partners, BC First Nations, provincial and federal government health agencies, and other FNHA departments, to establish relationships and action plans. Before joining the FNHA, Dr. Adams served as Deputy Provincial Health Officer (BC), where he provided direction on First Nations health issues to the Ministry of Health, reported to First Nations citizens on health issues affecting the general population, and set out a path for the improvement of First Nations health and wellness. He completed an MD at the University of Calgary, an Aboriginal Family Practice residency at St Paul's Hospital/UBC (as Chief Resident), and a Master of Public Health from Johns Hopkins University.
---
Dr. Adams' PDF version of his PPT presentation:
Video of Cultural Humility in Teaching and Learning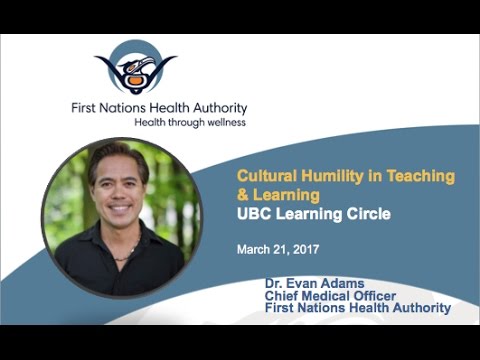 ---
.
.