Do you or someone close to you live with a disability?
Do you have concerns about financial security for the future?
Would you like more information on the Registered Disability Savings Plan?
Join the UBC Learning Circle on Thursday, March 9, 2017 for an educational session with the BC Aboriginal Network on Disability Society (BCANDS). In this session, presenters will provide an overview of the Registered Disability Savings Plan (RDSP), which is designed to give people with disabilities financial security for the future.
We will be joined by two of BCANDS's partner organizations – Plan Institute and Disability Alliance BC – for this fruitful conversation...
A registered disability savings plan (RDSP) is a savings plan that is intended to help parents and others save for the long term financial security of a person who is eligible for the disability tax credit (DTC).

---

 The British Columbia Aboriginal Network on Disability Society (BCANDS) is an award winning, provincial, Indigenous not for profit, charitable Society serving the unique and diverse disability and health resource / support service needs of the Indigenous population of British Columbia. BCANDS is a "stand alone" organization and the only organization of its type in Canada. Incorporated in 1991, BCANDS celebrated its 25th year of successfully delivering Indigenous disability and health programs and services across British Columbia in 2016.
Learning Objectives:
Participants will learn about the Registered Disability Savings Plan (RDSP):
A detailed explanation of what it is;
Requirements to open the account; and
How it can benefit people with disabilities, especially those who are living on low to modest incomes.
Everyone is welcome to participate:
Date: Thursday, March 9,  2017
Time: 10:00 am – 11:30am (PST)
Place: Participate live via video conference OR computer webinar.
……….View system requirements.
Registration: [Registration is now Closed]
About the Presenters:
| | |
| --- | --- |
| | Evelyn Huntjens is one of the Indigenous RDSP Navigators for BCANDS. She is a member of the Xeni Gwet'in – Tsilhqot'in People of Nemiah located in the Cariboo Chilcotin area of BC. Her role as the RDSP Navigator is to help clients with the RDSP process as much as possible. She provides services to eligible individuals, families and organizations, both within Indigenous communities and within BC's urban and rural centers. |
| | Kelsey Finlay is also an Indigenous RDSP Navigator at BCANDS. She is a member of the Qalipu Mi'kmaq Nation in Newfoundland and a graduate from the Social Work program at the University of Victoria. |
|   | Judit Takacs works as a Project Coordinator for Plan Institute. You'll find her coordinating a suite of projects aimed at financial independence for those affected by disability. She is passionate about connecting people with initiatives and opportunities to foster well-being. |
| | Salina Dewar is a Tax Advocate with Disability Alliance BC.  She helps people who receive PWD or PPMB assistance, and assists with clients' applications for the Disability Tax Credit so they can access the financial benefits they are entitled to.  Salina is a lifelong learner with a commitment to human rights and social justice. |
Additional Resources:
---
Pdf version of their ppt presentation:
Video: Financial Security for People with Disabilities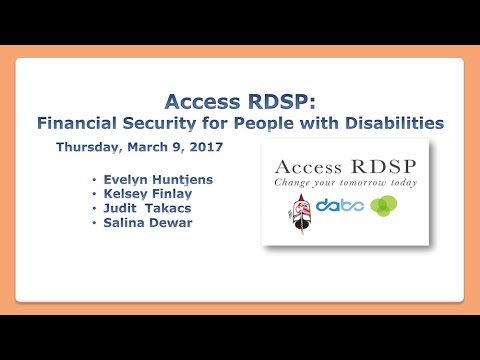 ---
---
.
.