What are some stories of success between Indigenous peoples and health care professionals?
Join UBC Learning Circle, in collaboration with Vancouver Coastal Health's Aboriginal Health Department, in welcoming Elder Roberta Price and Dr. David Tu on Thursday, March 30, 2017, 12:00 pm – 1:00 pm.
The Indigenous Elder and non-Indigenous Physician share their stories of success, offering ways to foster cultural safety within a health care setting.
Cultural safety is an outcome based on respectful engagement that recognizes and strives to address power imbalances inherent in the healthcare system. It results in an environment free of racism and discrimination, where people feel safe when receiving health care.
Learning Objectives:
Explore what cultural safety means

Identify what cultural safety looks like within a health care setting

From a cultural safety perspective, hear successful relationship stories between Indigenous Elders, health care professionals and Indigenous patients with their families
Everyone Welcome to Participate:
Date: Thursday, March 30,  2017
Time: 12:00 pm – 1:00 pm (PST)
Place: Participate live via video conference OR computer webinar.
………….View system requirements
Registration: is required to participate
[Registration is now closed]
About Our Presenters:
Elder Roberta Price, BEd, from the Snuneymuxw and Cowichan First Nations, has worked tirelessly over the past three decades to educate and raise awareness about issues affecting First Nations people in a positive, informative, and productive manner. She does this by working as a First Nations educator – sharing her traditional knowledge in schools, within the community, and with First Nations people.
Healing is something Roberta is familiar with as she recalls a very painful childhood survived in foster care. Feeling isolated and separated from her culture took a toll on her. Today, she has "risen up" and is completely devoted to being an agent of positive change. The mother of four and grandmother of eight has shared for the longest time that she believed she was doing this healing  work for her children, but that she now realizes it is for her grandchildren.
Roberta is involved with many communities in the Lower Mainland. A former member of the Board of Directors of Pacific Association of First Nations Women and an Elder at BC Women's and Children's Hospitals, Vancouver General Hospital and with the Mmmooooooke Na Sii yea Yeaaaa (All My Relations) Program at Vancouver Native Health Society.  For over 10 years, Roberta has been involved with the UBC School of Nursing, as community advisor, researcher & Elder in the CRIiHI unit. She has also been involved with the UBC Centre for Excellence in Indigenous Health for numerous years – presenting with the UBC Learning Circle and teaching the Cultural Competency and Humility course and IHHS 408 course to medical and other allied health professional students. 
Dr. David Tu, MD, CCFP is a Canadian Family Physician with a clinical focus on inner-city medicine, and research interests in Indigenous Peoples Health, HIV, Hepatitis C and Depression. He currently works as a clinician for the Vancouver Native Health Society Clinic and the UBC Aboriginal Family Practice Residency Stream. Dr. Tu is a Clinical Assistant Professor at the University of British Columba's Department of Family Practice. His current research has focuses on the development and effectiveness of partnership models of care between Traditional Indigenous and Modern health care practices.
Dr. David Tu, MD, CCFP.
Clinical Assistant Professor, University of British Columbia,
Research Coordinator, Vancouver Native Health Society,
Vancouver, BC, Canada
Email: davidtu9@gmail.com
---
---
PDF of their PowerPoint Presentation:
Video of Success Stories in Cultural Safety: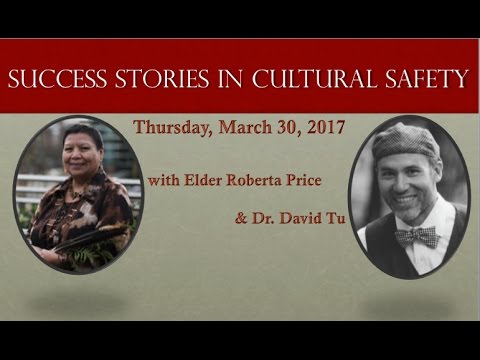 ---
---
.
.