The UBC Learning Circle presents a unique session that will begin to address evidence-based, resiliency-focused opportunities available in youth-adult partnership initiatives, activities and community behaviours. Join us in this Learning Circle to hear the voices of the youth with counselor Brian Gross, MFA, MA(c), along with Roxanne George, Youth & Elder Community Facilitator, as they and some young people they partner with lead us through a session of their work.
"We view youth as the experts in their own lives, capable of defining and responding to their own challenges and opportunities."
We all know that engaging young people is important and that having just one trusted adult in their lives can make a world of difference. Unfortunately many young people have had difficult experiences when they have tried to share their ideas, thoughts, feelings and experiences with adults. And these difficult experiences may make them careful about how and even if they will continue to engage, let alone take meaningful action and risks in their lives. This may lead adults to think that youth (or some youth) just aren't interested in being engaged. Our experience is that this is absolutely not the case. It's a matter of how, when and under what condition adults try to engage with them, not whether they want to be engaged.
This workshop will feature a number of learnings and resources developed over the course of a 2.5-year Health Canada-funded project that ran from 2014 to 2016 across the entire Fraser-Salish Health region of British Columbia – the most-populous and diverse health authority in the province – ranging from urban Burnaby and Surrey to rural Mission and Hope, up to remote Boston Bar.
 

…………

The project, Valley Youth Partnership for Engagement and Respect (VYPER), focused on supporting communities to ask and respond to the question "What might youth be capable of being and doing in this environment" and then to respond by building on three evidence-based resiliency factors:

 

………….
Opportunities to participate and contribute

………………………………………………….

Caring, connected relationships

Developing high self-expectations
4 Guiding Principles of the Project:
Working with an anti-oppression/allyship lens.

Building on what already exists.

Clarifying specific opportunities and available supports.

Hitting the ground running!
Roxanne and Brian are now working, through the Matsqui-Abbotsford Impact Society, on another Fraser-Salish region-wide project, called the Youth-Elder Partnership (YEP) program, funded by Vancouver Foundation's Fostering Change, aimed at indigenizing VYPER's Youth-Adult Partnership approach into the Aboriginal context, with a youth-developed and elder-endorsed vision and mission of:
Vision: A Fraser Valley where youth and elders bridge the age gap – working on projects that reduce isolation, share wisdom and knowledge, and support mutual understanding.
Mission: Building bridges between youth and elders. Discovering and sharing personal strengths and gifts. Showing that youth and elders can communicate, connect and learn with each other.
Date: Wednesday, November 30, 2016 [Registration is now Closed]
About the Presenters:
Roxanne George has going on 8 years experience working with young people and was a passionate Stó:lō Youth Council member as a youth. The help and support she has received from her communities has allowed Roxy to develop her passion and dedication for working with youth and young adults.  Roxanne strongly believes in giving back to her community to create a better future. Roxanne graduated with her Stó:lō Certificate – Stó:lō history, and all four levels of Halq'eméylem. She was the Hope to Boston Bar Area Coordinator for VYPER from 2014-2016 and became the regional Youth-Elder Community Facilitator for YEP in 2016. When she is not working or volunteering, she can be found practicing her culture, going on family outings, and supporting family and friends at sporting events.
.
.
Brian Gross, BFA, MFA, MA(c) is a counsellor and non‐profit executive director who manages Fraser region programs in public health, primary care, substance use services, and youth health promotion and prevention—with an allyship and anti‐oppression lens. He has been trained in and works extensively with outcome mapping, communities of practice, developmental evaluation, motivational interviewing, acceptance and commitment therapy, and trauma‐informed practice.
As a teenager in the 80's he coordinated campaigns against HIV/AIDS quarantine ballot initiatives in California; in the 90's he was a mainstay in performance art, dance and theatre in Los Angeles, lead singer of a goth band, and developed creative arts programs, performances, exhibits and publications at a Hollywood homeless youth drop‐in centre, and at LGBTQ2S+ alternative high schools; in the 00's he taught and authored textbooks on media, management and ethics at California State University, Fullerton.
.
Reading Material:
Making Resilience Happen through Youth-Adult Partnership: Moving from observation of natural resilience to intentionally supporting resilience in community-based youth health promotion and prevention initiatives..
"We kindly ask you to send in questions you may want to ask prior to this session"
---
PDF Version of their Presentation:
Edited Video of Making Resilience Happen: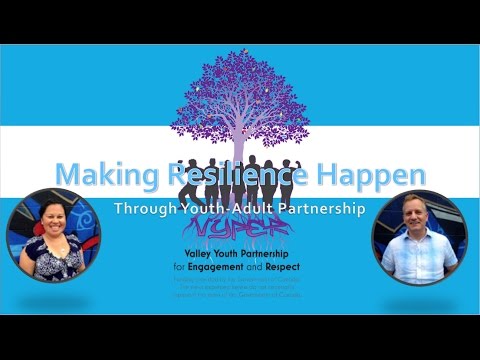 .