Join us for the first of a series of sessions related to the use of social media with the Communication Studio's owner, Anyssa (Richmond) Carruthers.  On October 13, 2016 we will be joined by the marketing expert and social media director as she shares some secrets to using social media.
Each session will build and expand on the previous UBC Learning Circle sessions. Join us so that you can expand your social media and marketing knowledge-base. Help your family, community and employer through the use of social media.
Talking Points:
Can you make money with social media? 

How can social media help you land a job? 

Are some forms of social media better than others in advocating for social justice? 

Are there skills you can develop from home that can better help your family, community, employer or you develop a business?
Everyone welcome to participate:
Date: Thursday, October 13,  2016 [registration is now closed]
Time: 10:00 am – 11:30 am (PST)
About the Presenter:
Anyssa (Richmond) Carruthers, a single parent, the grandmother of one and mother of two, obtained her degree from the University of the Fraser Valley, and has gone on to develop her very successful Communication Studio marketing and social media business. The social media marketing guru teaches part-time at Langara College while blazing a new trail with her successful business.
The lifecycle marketing expert combines traditional and digital marketing, helping her clients to implement new marketing campaigns and revamp existing marketing plans.
"I get excited assisting others in their success and getting them connected with the true passion."
Anyssa  has been teaching social media, leadership, and vision casting/goal setting for small business since 2009. The Communication Studio coaches, trains and implements social media online marketing campaigns for its clients.
 The Communication Studio  ~ Anyssa (Richmond) Carruthers
 ✔ Lifecycle Marketing Expert ✔ Linkedin Sales Trainer
✔ Designer/Artist ✔ Social Media Director
"I believe we can achieve our goals on our own but when we work together, assist each other from the heart, we achieve true success."

---
✔Achievements and details:
• A patient trainer and teacher
• Good at evaluating sales and marketing models
• Strong project management skills with a habit of finding creative solutions that achieve
success.
✔Key Managerial Accomplishments and Skills:
• Take a retail store front from negative $60K towards a positive cash flow in under 8 months with monthly expense over $25K.
• Staff training, leadership coaching, team building and building key systems within the business.
• Built boutique RV Resort, for specialized high end market, including construction co-ordination, marketing plans, event planning, catering, sales and running the business for the first two years.
---
---
PDF Version of Anyssa's Presentation:
Video of Social Media for Advocacy, Income and Career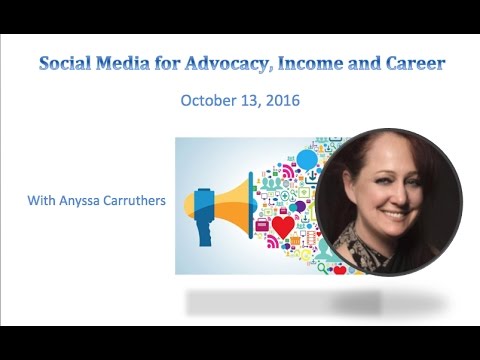 ---