This UBC Learning Circle features a leader in Gardening, Dietetics and Cooking, our returning guest, Gerry Kasten.
Spring is a great time to begin your gardening. Some people grow food in a community garden, others in a flower bed on the side of their house. Gerry prepares us for a container garden which allows people to grow food in pots on your apartment balcony or even your front steps in makeshift containers. Join us as Gerry Kasten of Vancouver Coastal Health returns once again to share his knowledge on gardening, as well as his recipes to eat the dishes of the delectable gardens we are about to grow!
Learn how to take care of your own container garden or add to what you already know. Then share your knowledge with others who may want to start a little garden of their own in order to add healthy fresh foods to their diet.
Session Topics Include: 
Container Gardening – how to prepare pots for mini garden

How to prepare soil

The easiest things to plant in pots for eating

Recipes to prepare and eat these dishes from your container garden
Everyone welcome to attend:
Participate in this FREE live videoconference and webinar session.
Date: Tuesday February 28, 2017 (PST) 
Time: 10 a.m. to 11:30 am
Where: Videoconference OR internet webinar.
………..View system requirements
Registration: [Registration is now closed]
About the Presenter
Gerry Kasten, Registered Dietitian; Hon Dipl Comm Cooking (NAIT); BSc(HEc) (UofA); MSc (UBC); Fellow of Dietitians of Canada – Gerry loves food! He was born to a farming family and still helps his brother bring in the harvest each year.  He has an Honours Diploma in Commercial Cooking and has both a Bachelors and Masters degree in Nutrition. His Master's research was on food choices amongst gay men. He has worked in Public Health in BC for the past twenty-four years, has led the boards of directors of both Dietitians of Canada and the BC Agriculture in the Classroom Foundation. Gerry is also a Sessional Instructor in UBC's Dietetics program.  Gerry's chequered past has led him to a critical analysis of the constructions of gender, particularly as they are enacted through food.
He wants to live in a world where people celebrate food, sharing it with those they love, taking its pleasure without restraint because its flavour saturates their most sensuous appetites.
---
Gerry Kasten's Garden Recipe Book
Gardening Sites Shared During Session:
Gerry Kasten's Video on Spring Gardening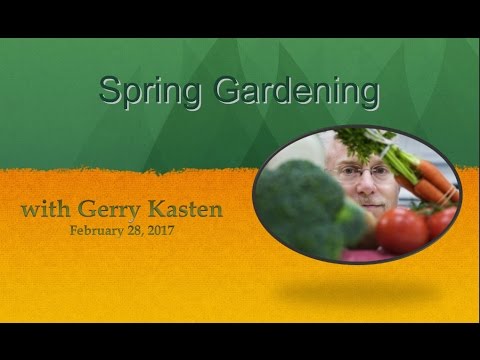 ---
---
.
.